Race Car
As a result of Castle Hill Performance Centre's enthusiasm and ability, we decided to put together the Castle Hill Exhaust race car to showcase what we are capable of and what we are about. Twelve passes down the track our race car achieved 8.98@161 mph, making it Australia's fastest LS1 powered turbo charged vehicle (standard chassis IRS).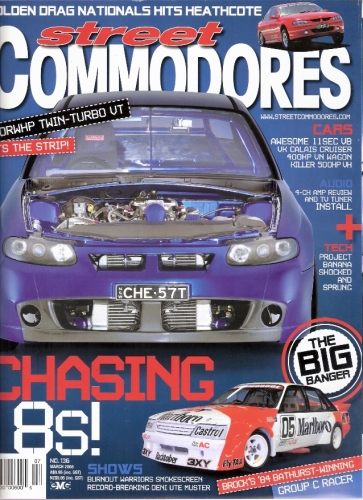 Our race car was turned out in quite a short period of time, the quality of build was second to none. Before we raced it, we were approached by the magazine Street Commodores to have the car featured and to be on the cover.
After we set our 8.98@161 mph, which was our goal for this setup, we immediately retired the car. Although more passes with the car in the current combination would have most definitely yielded better results. Instead we sent the car off to the chassis shop. The plan is to keep going and make more improvements and put together a combination that will run consistently in the 7 second zone.
As featured on the Street Commodores Live DVD.
More images in the gallery.